Fueled by Ramen (1999)
Taking their name from a Hanna-Barbera cartoon, the punk-ska act the Impossibles formed in 1994 in Austin, Texas. They slowly built up a local following and released a self-titled LP in 1997 on the Fueled by Ramen label and followed up with the
Back for the Attack
EP in 1998. Citing internal pressure and college plans, the Impossibles called it quits shortly after their EP, but managed to posthumously develop a strong national following. Demand for their recorded material grew and availability dropped, so in 1999 Fueled by Ramen issued
Anthology
, a compilation of the LP, EP and several unreleased tracks from pre-'97 recordings. They reunited in 2000 (
sans
ska) to tour and release
Return
in 2000 before ultimately disbanding in 2002.
Anthology
innovatively blends Weezer's characteristic loud/soft shifts, catchy choruses, and "nerdy" lyrics with the underground ethos and ska beats of punk-ska pioneers Operation Ivy. The thrashing guitars, poppy melodies, and infectious lyrics of the choruses play off of the subdued upbeats and introspection of the verses to great effect. Complemented by driving bridges, dueling vocals, and healthy doses of "oohs and aahs," the Impossibles craft multiple anthems that teeter on the edge between fiercely local punk band and three-minute pop-rock radio fare. Lyrically, the Impossibles tend to reflect sincerely on what they knew best: the awkward adolescent years. Authentic themes of self-doubt, failed relationships, and growing up "uncool" drip off of
Anthology
without coming off as whiny or preachy (as so much 2000s rock did). Every track from the 1997-8 recordings emanates effortless catchiness, but "Eightball," "Erin with an E," "So Much" and "Priorities Intact" especially stand out.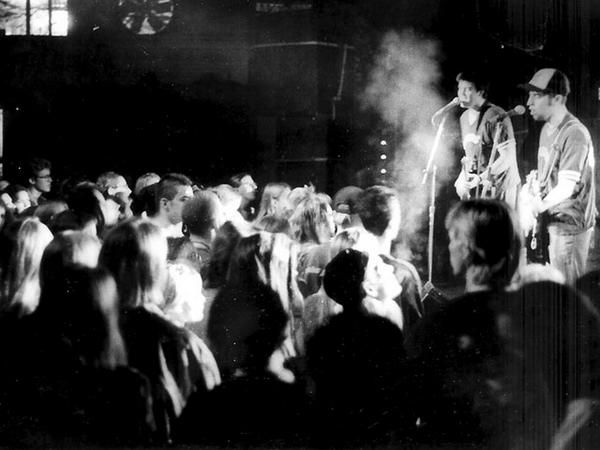 Listeners fed up with the typical '90s alternative sound or eager for something truly revolutionary should probably look elsewhere; the Impossibles have a formula and they stick to it for the most part. While they may take an approach to punk-ska steeped in mid-'90s traditions, the Impossibles absolutely nail the execution and infuse each track with their quirky charm. Simply put, the whole is definitely greater than the sum of the parts here.
Anthology
may not reinvent the wheel, but it oozes personality and delivers anthemic punk-ska in a huge way.
>>Download